Poundex Reversible Sleeper Sectional is a piece of furniture that is impressive as a perfect storage solution for small apartments. With adjustable sofa back, you can convert this piece of furniture into a comfortable guest bed. Isn't it an easy and fun way?
In this review, I am going to talk about the features, the pros, and cons and other things that you need to know about this awesome 3-in-1 Sectional Sofa, Bed, and Storage underneath. Have fun 🙂
Poundex L-shaped Reversible Sleeper Sectional Sofa Review
The L-shaped sofa is one that is characterized by bold lines and clean angles. It is an adjustable sectional sofa that will double as a regular traditional sofa. It is a resting unit that has a storage unit too that can old blankets and other items that you want near you when lounging.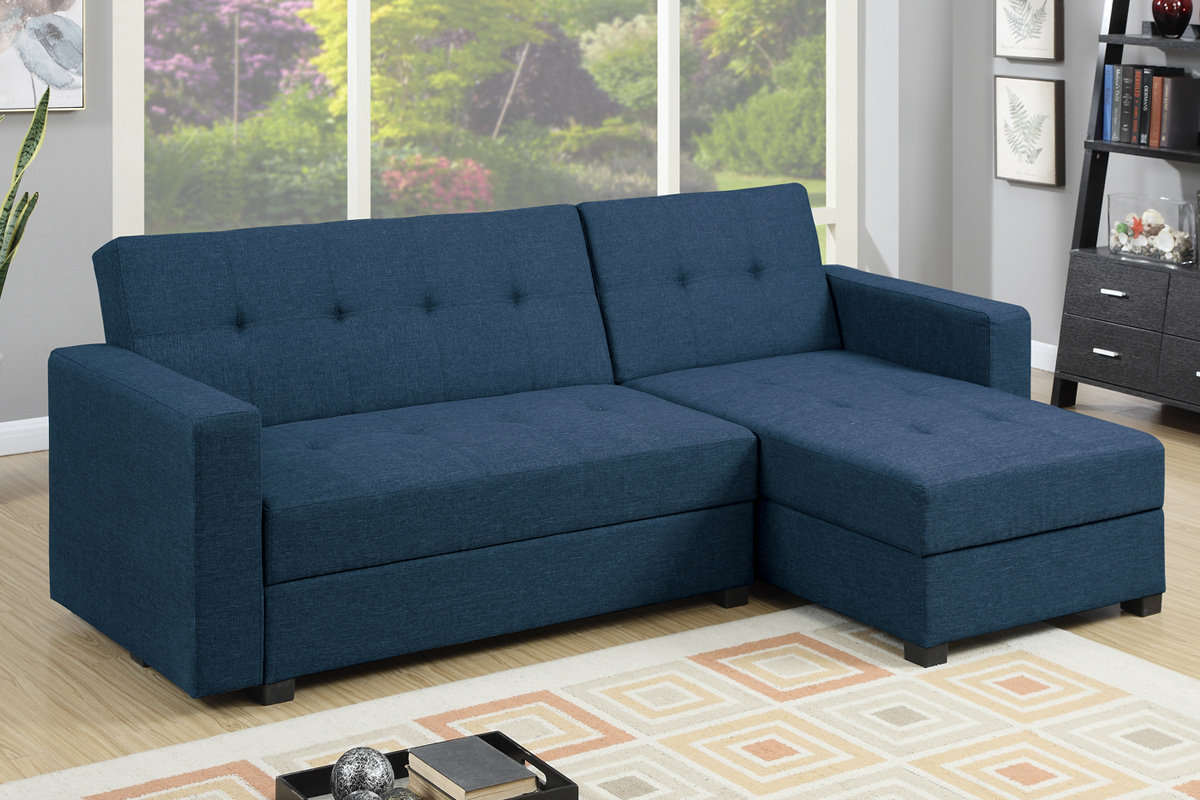 This is something that will make a really valuable addition to the collection of furniture that you already own. The sofa is bed size and can hold a grown man properly without any fuss.
It is built in what I can call a modern style with upholstery of polyester blend and removable arms and legs which are the only things that consist of any assembly. You will find this to be a great piece of furniture to have in any room of your house.
This piece of furniture has been made to last and impress when you see it for the first time and that is the reason why you will find it to be worth buying. Here we look at some of the features that are what makes the Poundex Reversible Sleeper Sectional awesome.
Resilient Design
When you buy something like Poundex, you want to know that it will last you for a long time. So, you will be happy to know that the build is sturdy. The legs are made of resin. The whole frame is a solid manufactured wood that has been processed to last long.
The seat construction has strong sinuous spring design which will give you the kind of comfort and resilience that you need. As you will find out, the whole thing is built to make sure that it will last for a long time.
You'll love: Benchcraft's Aldie Reversible Small Sectional Sleeper Sofa Reviews
Comfortable Design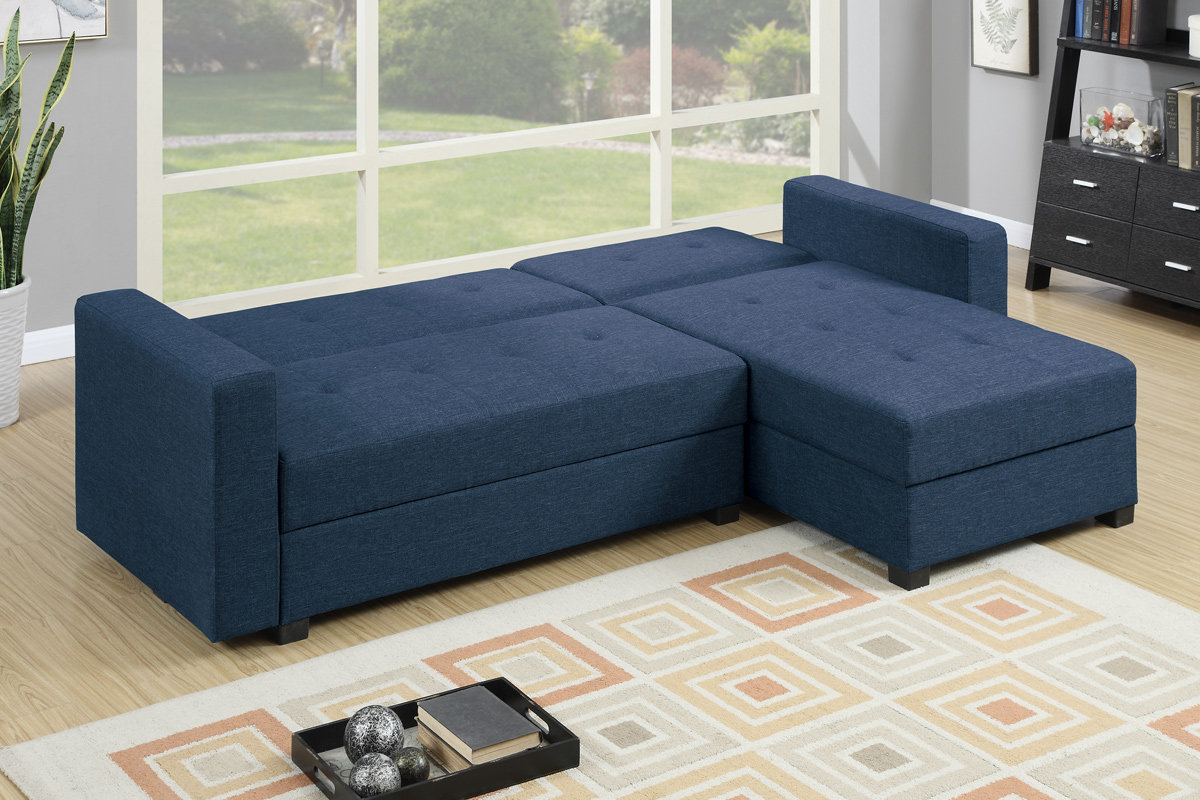 Having a small sectional sleeper sofa like Poundex means that you have to get something that will give you comfort and this one delivers on that. The seat material filling is hi-resilient foam fiber batting which means that it is easy on the backside and it won't lose shape.
With a medium seating firmness and the sinuous spring construction on the seat, you will find this a place that you can lounge and nap on for hours without feeling uncomfortable. This design is something that you will find to be perfect for all the uses of this furniture.
Incredible Fabric Properties
Some of the users who have purchased this one can attest to the fact that the fabric on this one is great. It does not retain any pet hair and will not have to be vacuumed to get any hairs out and is therefore pet-friendly.
It is also praised for the navy color which is dark and blends in with most color types of the room you may put this in. The fabric also helps with increasing the firmness.
Back Support and Storage
The whole thing is great for storing things underneath like linens. Over time, it will sag in the middle moderately but that day is a long way off. You will have incredible back support which is good for posture. It may be stiff at first but it will break in.
The perfect solution for small living room space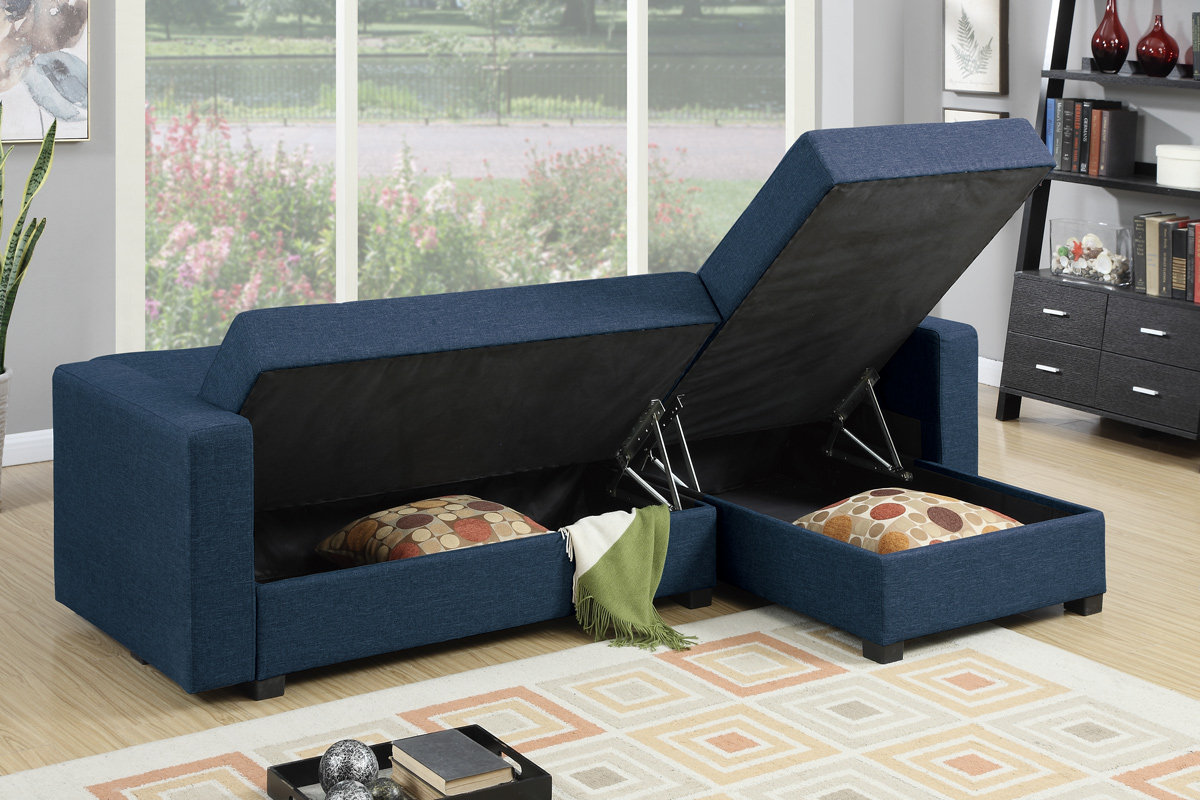 Measuring just 32" H x 92" W x 57" D for sofa style, and under-seat-storage, it is perfect for a cozy bedroom and small apartment. You can save tons of space in your tiny room for other pieces. Also, this is a sleeper sectional that I think is made for the people who want to have the best of comfort. It is cheap for the features that you get and there have been no complaints about the pricing. So, if you are someone who wants a sleeper sofa that is a proper size at a good price, this is best for you.
You will realize what I am talking about when it is resting in your home or apartment.
Pros
The chaise is 6 feet which means that you will fit into this as long as you are not taller than that.
The back support is great because of the firmness of the seat which will give you the correct posture.
This has been marketed as a cheap deal to many people including students, young couples and such. Trust me, you can afford it.
The delivery time is great when you order from Amazon in the US.
The piece is BHFTI upholstered which is compliant with furniture flammability laws for your protection.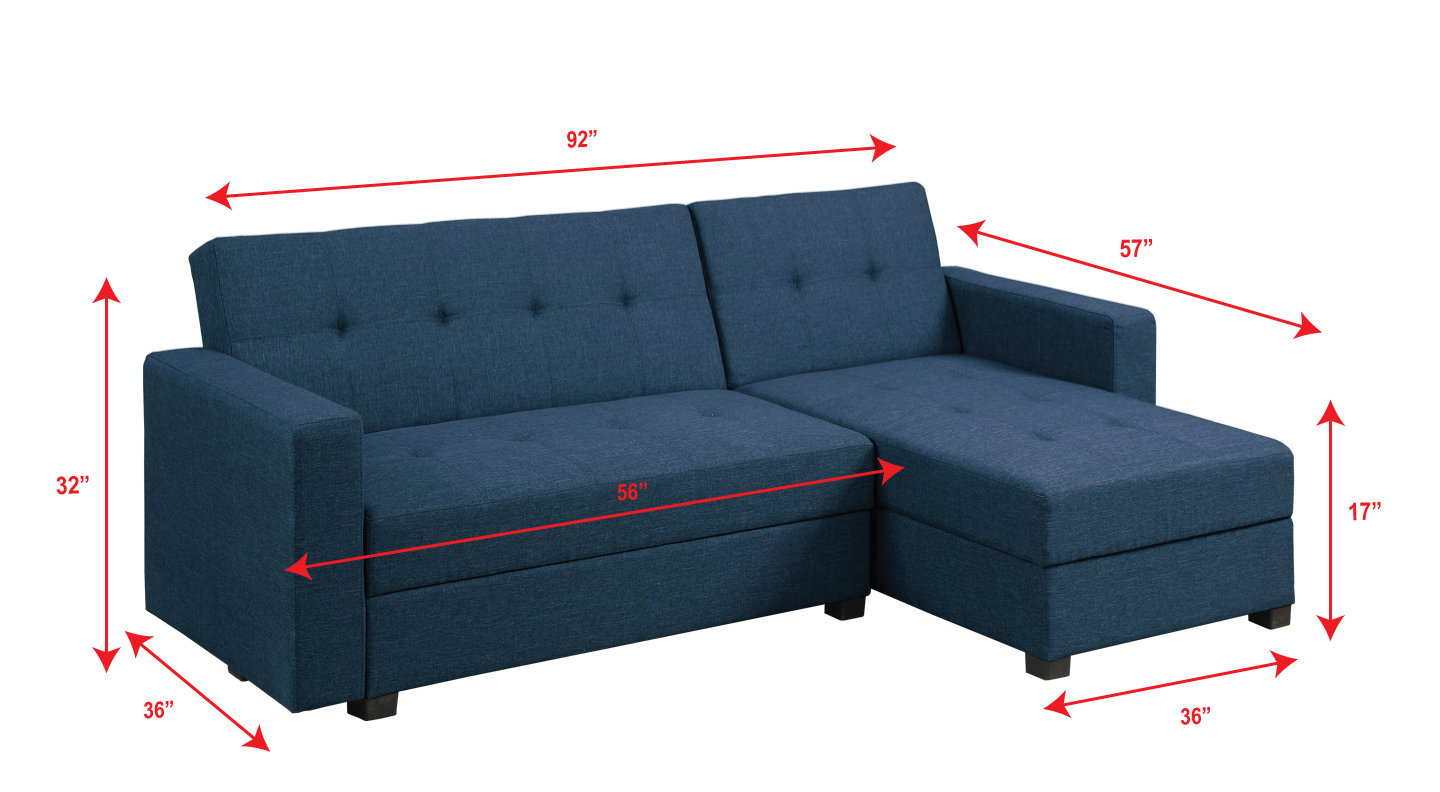 Cons
The sleeper sectional sofa is a little stiff which is sometimes a complaint and other times preferred.
The sofa will sag after a considerable amount of time because of the not-so-strong support in the middle.
The legs being made of resin can scratch easily. This means that they will need to be protected from brutal abrasions.
Alternative Products
There are other sectional sleeper sofas that compete with this one and they will include Benchcraft, Arachne, Morpheus and Mendosia among others. They will all have their own features you can look at.
Poundex Furniture Reviews Final Thought
Now that we have seen what this one offers you, you will find out that there is more to the sofa than you may have imagined. You just need to add it to the house and see the effect. It has all the edgy and new look that you will need when sprucing up a place.
I would definitely recommend this as a buy. There is no reason not to get it when you have a tight budget and you need something that will work for you perfectly.